Photo Essay: Veils, Beards, and Eid Desserts in the Exotic Streets of Old Delhi
A heritage walk with an American in the Muslim quarter of India's capital.
[Text and pictures by Mayank Austen Soofi]
The night sky twinkled with its stars. The crowded street glittered with its decorated electric bulbs. We were sitting on the stone stairs of the dully-lit Jama Masjid — the world's greatest and grandest mosque. Our heads were light and our eyes were hazy after indulging in a few shots of vodka.
A plump woman, wrapped in several folds of her black chador, was staring at us intently. Oh, I should say towards my friend. He was an American — a white man. In fact, everyone was gaping at him. Many were coming to shake his hand. A few even shook mine, perhaps hoping to catch the molecules of a white man's skin by touching somebody with so close an access to him!
I rejoiced in this borrowed stardom.
Bazaar Scene – View From the Jama Masjid Stairs
Bazaar Scene – View From Within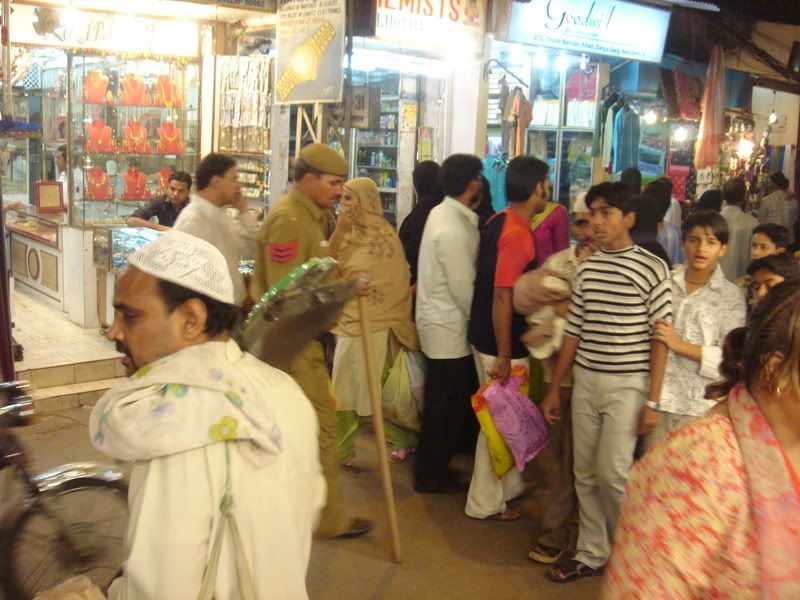 Bazaar Scene – View From a Side Alley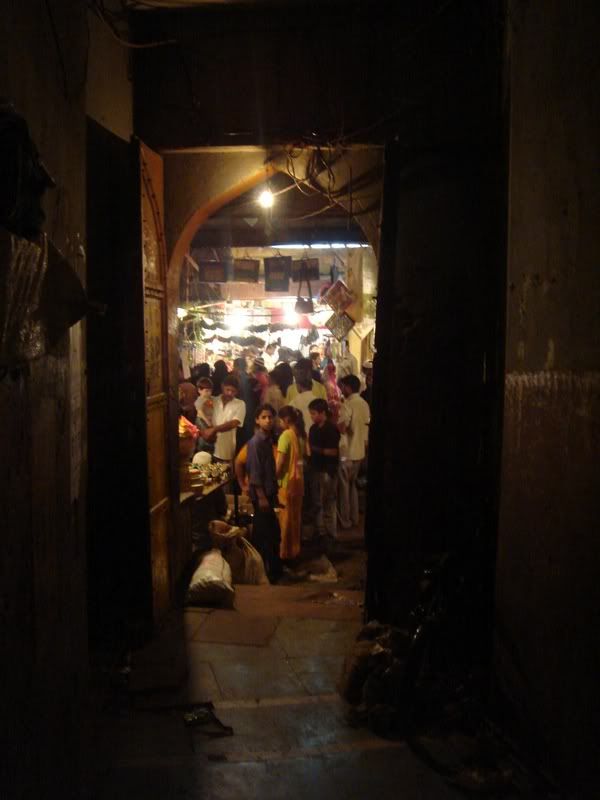 It was the last day of the fasting festival of Ramadan and we had decided to roam in the streets of the night bazaar hoping to click oriental pictures — of Muslim women covered in black drapes; of bearded men with skull caps; of eateries selling multi-colored delicacies.
My friend wanted to click Incredible India pictures — the sort where beggars conveniently sit against a setting of third world glitter, with cows and dogs and filth and people as necessary background details. Except cows, everything was plentiful. The friend was not disappointed. I was happy for him.
Sandals For Your Mistresses, Wives, Daughters, Sisters, and Mothers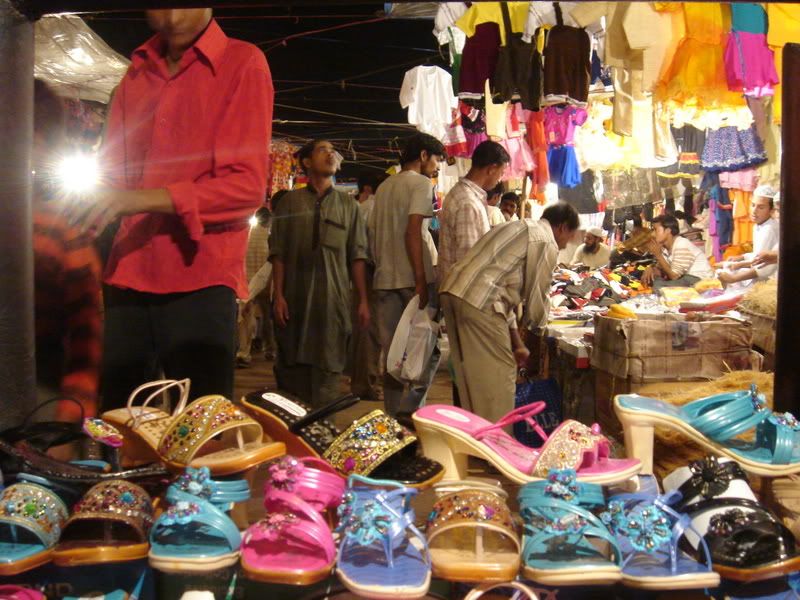 The market street resembled a cheap Hindi movie set. We were the audience and everybody else members of some large dance troupe all set to break out into a hip-shaking song and dance at any moment.
Or was it like a mall — Jama Masjid style?
There were shops selling Pakistani visa forms; wooden carts with pots of biryani simmering in them; mounds of shiny sandals toppling over one another in the pavement; hole-in-the-wall bakeries employing scores of Oliver Twists; chador stalls displaying shrouds in various colors; cloth shops cluttered with mannequins.
The Ladies Do Wear All These Colorful Clothes, But Under the Black Robes
Most appetizingly, there were gangs of draped girls shopping around in a festive mood. Their eyes, popping out of the veils, were the only part of their anatomy visible to the outside world — attractive enough to fall in love with but, at the same time, potentially dangerous to stare into them.
Meanwhile, men flocked in great numbers to embrace my friend's exotic white skin. Such outpouring of physical affection led him to declare that it's only the Indian Muslims in the entire Islamic world where Americans could still expect to be kissed, and not killed.
Pakistani Visa Forms Sold Here – India's Relationship With Its 'Enemy' is More Complicated than is Usually Realised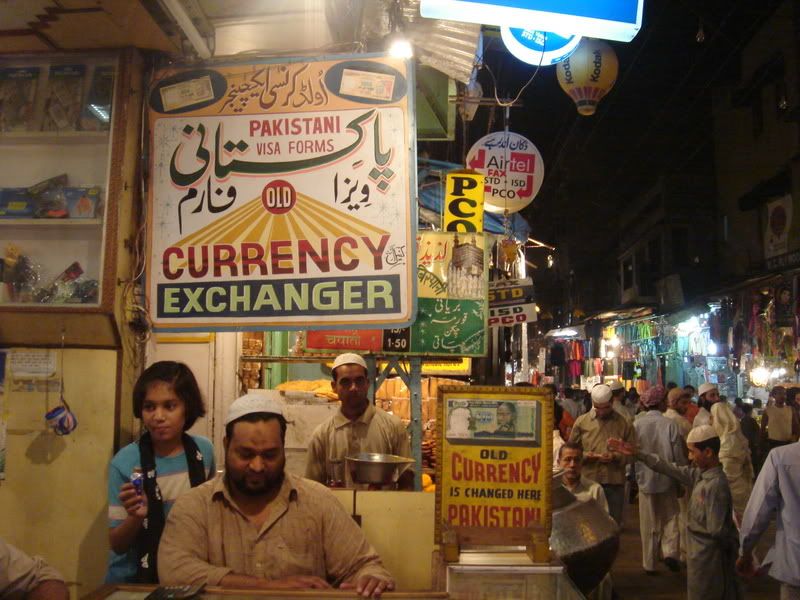 The Art of Street Decoration
Everyone — old men and young boys, but no women — were calling out to us to photograph them. Unfortunately, we were bored of the beards and skull caps. We wanted these men's ladies in our lenses instead. But we were scared. Suppose the haughty men took it as an attack on their family honor? What if these demure ladies get upset and start beating us with their sandals?
We also did not rule out the possibility of being misunderstood as streetside Romeos, or worse as Internet pornographers planning to morph their eyes on the faces of naked women.
It was risky and this hesitation became frustrating when we came across an Allah-gifted vision of a lady, covered in black, shopping for lingerie in a roadside stall.
Has anyone ever seen a draped women picking out bras and panties?
It was too difficult not to take a picture. But neither of us had any guts. We were fearful for our expensive cameras; for our drunken dignity; and for our lives. The moment petered out.
Posing Suggestively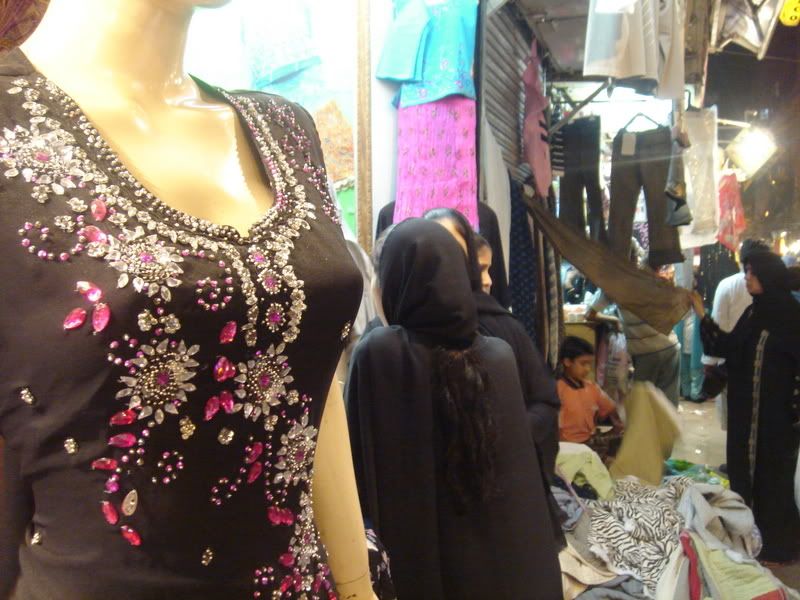 The mood was magical but the street was stinking with a mixed smell of human pee, horse dung, and chicken kebabs. The friend suddenly started recalling his travels in Malaysia. There, he mused, people constantly run down Chinese settlers for their allegedly filthy habits. Those Indonesians would die of heart failure if they visited Delhi, he smirked.
I laughed with a palpitating longing to loll around in all this filth.
Food Scene – The Ramadan Special Desserts
Food Scene – Sewai; Vermicelli, Later Cooked in Thickened Milk (A Ramadan feast is incomplete without this dessert)
Food Scene – Oliver Twist Baking a Naan Bread!
We soon noticed an old man following us for a long time. Perhaps he wanted to offer prostitutes. But he was merely selling hundred-rupee-a-night hotel rooms. Still, the encounter was not in vain — he looked like a Persian noble and we asked if he would mind to pose for us. To our delight, Mr. Hotel Agent nodded heartily and happily smiled for us, first for my camera and then for my friend's.
It turned out he hailed from Kashmir, not Persia.
A Hotel Agent – From the Vales of Kashmir to the Smog of Delhi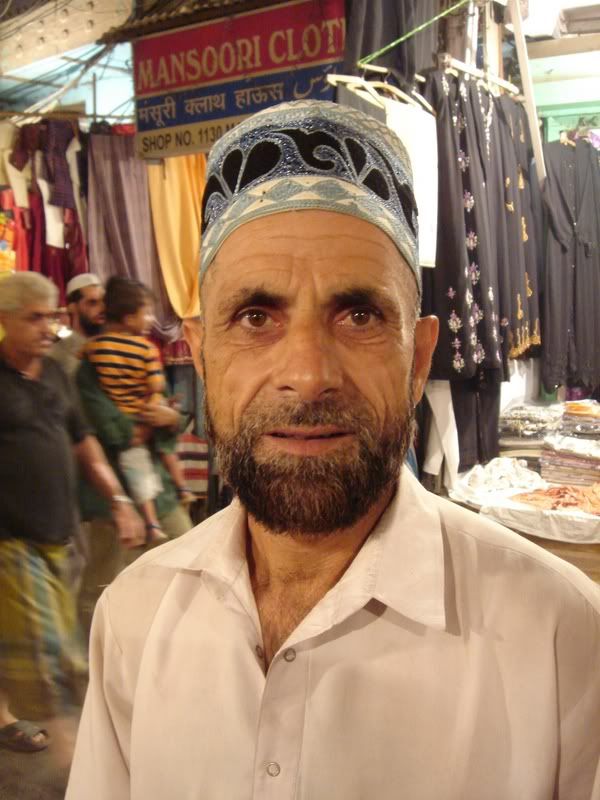 < /a>
We walked on. There was a picturesque sight of starving beggars, sitting outside the eateries, waiting for the charitably inclined believers to offer them food coupons. Like proper tourists, we started focusing our cameras on these beggars. But somehow it looked too obscene to click their pictures. Isn't it called Poverty Pornography? So we walked on.
The Brotherhood of Beggars
However, our ardent dream of capturing a veiled woman was still unrealized. The friend sportingly called them the 'caged people'. My liberal heart took offence and a long-winded speech on 'freedom of choice' and 'respect for different lifestyles' strutted out from my alcoholic lips.
The friend laughed and I shrugged.
We passed by more women draped in increasingly beautiful chadors, decorated with beautiful golden-thread embroideries. Tempted to stop the ladies and hug them hard, we wanted to plead, "Madame, please Madame, let us click your picture.' But we were afraid.
At one point we noticed a jewelry store where the 'caged people,' looking happy in their cages, were choosing gold earrings. Our hearts shivered in nervousness as we apologetically muttered if we could take a picture. The pleasant jeweler flashed a big yellow-toothy smile in consent.
Alas, he, only he, then posed for us.
A Jeweler Displays His Ware – But Where are the Women?
Two hours clicked past since we had begun this stroll. We now walked through an alley and emerged out into a highway. Suddenly, the glitter had gone, the noise was silenced and the crowd had vanished. There were no beards and no veils to be seen. The jolly planet had receded back into its orbit. We were stranded back in the real world. It was very abrupt.
A Lazy Merchant in a Relaxed Mood
Postscript
After two days the friend complained of reeling under a particularly vicious virus attack. It was handshakes with all those palms of bazaar people, he supposed. I whispered consoling sweet nothings and decided to go back again.
This time alone.
---