Special Photo Essay – New Year Do's in the New Central Park
Within a month of its re-opening, the revamped Central Park has become the social sea beach that Delhi never had.
[by Mayank Austen Soofi]
Last day of the last year forced the Delhites out into the newly revamped Central Park in Connaught Place. The air was cool and the mood warm. Holidaymakers feasted, laughed and chatted. Love birds from the humble Hansraj College joked in Hindi. Snobbish students from the uppity St. Stephen's College conversed in English. A red-shirted man from small town Rohtak walked around with dazed eyes.
Nuclear families drove all the way from middle-class neighborhoods like Janak Puri and Punjabi Bagh to lay down on the grass – their children shrieking and running. A large family sitting in a circle cheered when the frail patriarch managed to stand up on his own (his wife remained composed). A neither-old-nor-young couple continued talking seriously to each other. In one of the circles a young girl smiled from time to time while peeling a guava.
One cheerful woman, flaunting her just-married status by displaying the red bridal bangles, tapped around in astoundingly high plastic heels. Lustful Jaat men from infamous Mahipalpur ogled at the curves of the daringly dressed women. Nearby, three young ruffians made obscene comments about saree-clad women sitting next to them.
Oh, there was also a book lover sitting quietly on a stack of second-hand books – busy clicking pictures!
A happy and prosperous 2007 to all the readers of The Delhi Walla.
Celebrating the Central Park – Fun in the Family


Celebrating the Central Park – People Watching
Celebrating the Central Park – Tap, Tap and Tap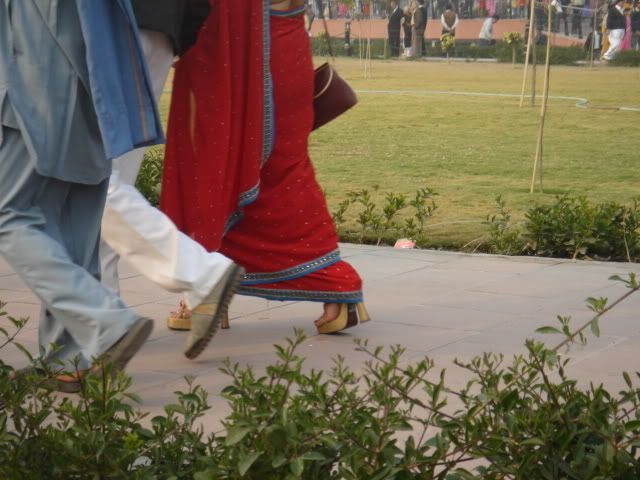 Celebrating the Central Park – Smile, Please


Celebrating the Central Park – We are Happy


Celebrating the Central Park – Thy Way We Are


---